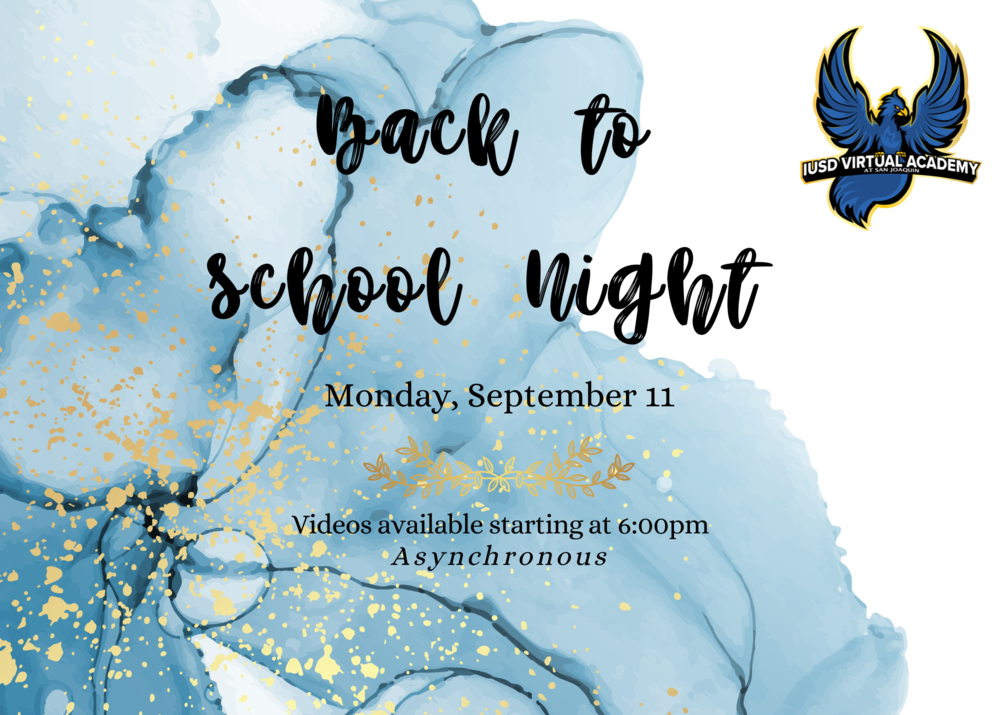 Dear IVA @ San Joaquin Middle and High School Families:

Our weekly newsletter can be found HERE
Our virtual Back to School Night is scheduled for Monday, September 11th at 6:00 p.m.  This is an asynchronous event and you'll have the opportunity to hear from each of your student's teachers through pre-recorded video messages.  These videos will be available on your student's Canvas pages starting at 6:00 p.m. on Monday, September 11th.    
To kick off the evening, please begin with our Back to School Night Directions video.  It will provide you with important information about how to access teachers' Back to School Night presentations.  
If you have not done so already, please follow these instructions on setting up a Parent Observer Canvas account with your student. Canvas will be the primary point of contact for your child to access information about each of their classes. By setting up a Parent Observer account, you will be able to see what teachers post if you want to stay informed about their classes.
Live tech support will be available for parents on Monday, September 1th from 5:45-7:00 p.m. by accessing this ZOOM Link. passcode: SJIVA1
Parents may receive assistance for:
•    Creating Canvas parent observer accounts
•    General login assistance
•    Locating your child's classes in Canvas
•    Locating teacher's back-to-school night information  
School Site Council: We are looking for some parent volunteers for our school site council.  There are 3-4 meetings per year and we work around everyone's schedules.  Please contact Dr. Roberts if you are willing to serve at rebeccaroberts@iusd.org

Join PTSA: Our small and mighty PTSA would love your support.  Please join our PTSA